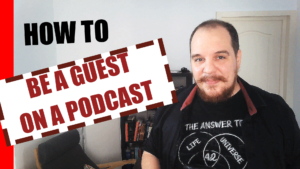 When you are going to be interviewed for a podcast, you should remember that the episode may be downloaded hundreds or thousands of times. And you don't want your listeners to turn it off after a few minutes because your sound is awful.
Sure, the podcaster can do a couple of things in post-production to rescue a bad recording. But you want to make sure that you did everything you could (in that moment) to help improve the quality of your sound.
As a podcaster myself I realized that I sometimes forget to tell my guests what they could do. So, I made a video!
And in part two of the tutorial, I explain how to record your own voice using Audacity!