Maybe it is because of the change in fields and scientific environment, but I increasingly doubt data presented in talks, posters, and articles. Mostly because I find myself wondering whether the choice of statistical description of the data makes any sense. I am not speaking of advanced statistics at all, just the simplest descriptive techniques and the choice of the right plot for it.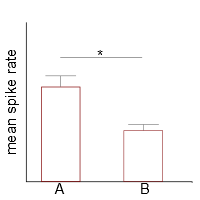 Bar plot as sketched in figure 1 raise my doubts. What looks like a rather okay representation of data actually does not really give you an intuitive idea of how the data are distributed.

A barplot is most useful to represent counts in histograms or percentages. The bar is supposed to indicate that there would be data points spanning the whole range from the top of the bar down to the x-axis (figure 2). Standard deviations on a barplot would indicate that one measured the whole thing several times and there is some wiggle at the overall sum of each measurement. For example, if you counted the number of labeled neurons in the same brain area of several animals and you want to show the cell count numbers. Here, the relation of the sizes of the bars directly translates into the relationship between count numbers.
Continue reading

Barplot Madness